See also:
How can I move/reorganize pages within a Microsoft Word document?
Introduction:
The question is sometimes asked: How can I move pages within a Microsoft Word document?
The brief answer is: Copy and Paste. The full answer is more complex and requires an understanding of how Word looks at text and does not see pages.
Word does not understand pages. It doesn't use pages, despite appearances to the contrary.
Word is a text-flow program where text is set in a certain page only at print time. Using complex macros, you can manipulate pages, but that is seldom satisfactory. Luckily, Word 2010 and later have a key feature called the Navigation Pane that will let you move logical sections of your document easily. You can structure a document so that each page is a logical section, using the built-in Heading Styles. See Why use Microsoft Word's built-in heading styles? by Shauna Kelly.
See also:
Overview:
Warning: Earlier versions of Word have a feature similar to the Navigation Pane called the Document Map. Do not use that tool to reorganize a document. Doing so may result in document corruption. You can use Outline View in earlier versions to move parts of a document delimited by heading styles.
The Navigation Pane is what pops up when you press Ctrl+F for Find, except it is then in the found text mode rather than the headings mode. You can click the tab for headings if the Navigation Pane is already showing, or you can turn it on using the View Tab. You want to be using the Headings tab in the Navigation Pane, not the Page tab.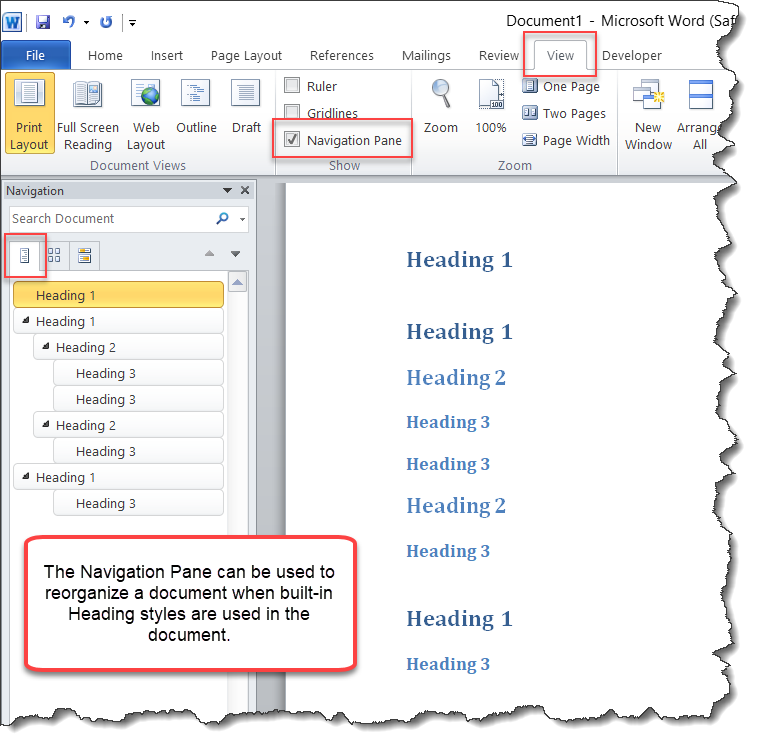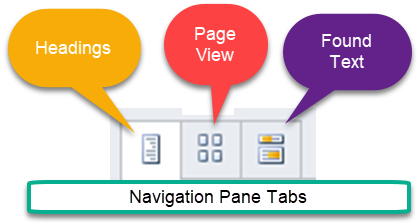 Navigation Pane Tabs in Word 2010
Later versions use the words instead of icons:
Headings | Pages | Results
To use this feature to move pages, you must start each page with one of the built-in headings or at least a custom heading that has an Outline Level applied.
1. The easiest way to do this is to modify one of the heading styles to have the paragraph formatting of page-break-before.
2. I suggest using Heading 1 to begin each page.
3. You can apply Heading 1 to a paragraph by selecting it in the Quick Styles on the Home Tab or using the shortcut Ctrl+Shift+1. (Heading 1 - Heading 3 have these shortcuts built in. You can add them for all the heading styles.)
4. This heading style should have the paragraph formatting attributes of (1) an outline level, (2)"Keep with Next" paragraph and (3) "Keep lines together" - this is for lines within the paragraph. The built-in heading styles have this formatting built in.
Doing this gives Word logical container for your page.
To move a page (logical section) that starts with Heading 1 (or whichever style you chose to mark the start of a page) in Word 2010 and later using the Navigation Pane:
1. The Navigation Pane must be showing and on the Headings Tab. See above.
2. Click on the page heading in the Navigation Pane you want to move.
3. Holding the mouse button down, move the heading up or down in the Navigation Pane. You will be moving everything between the selected heading and the next heading of that level.
4. Warning, if you move to the right, you will be demoting your heading. If you started with a Heading 2, moving to the left will promote it to Heading 1.
To move a page (logical section) that starts with a Heading Style in Word 2013 and later using Collapse/Expand
1. Click on the triangle that shows to the left of the heading paragraph when your insertion point is inside the paragraph to turn the triangle so it points at the paragraph rather than down. This collapses your content under that paragraph. (The content between this heading an the next one at the same outline level.)
2. Select the heading paragraph and Cut it. (Ctrl+X)
3. Go to where you want to insert it and click where you want it.
4. Paste (Ctrl+V))
5. Expand the content by clicking on the triangle to the left of your heading to get it to point more down than to the side. Your content wil reappear.
Please read the material above, for background. Again, Word does not understand what a page is! Often you want to keep a few paragraphs of text together, do not want it unnecessarily split across multiple pages. This can be done with paragraph formatting. The method above starts pages with a style that contains Page-Break-Before paragraph formatting. Logical ideas, though, do not need to begin a page.
If you want to be able to move this as a logical unit to another page, the best way to do so is to start it with a heading style, likely one of the built-in heading styles. That style will have an Outline level and will be set to "Keep lines together" and "Keep with the next" paragraph.
The last paragraph of your logically related content should have the paragraph formatting of "Keep lines together" but not "Keep with next."
The paragraphs between the heading and the last paragraph should have formatting of both "Keep with next " and "Keep lines together."
Ideally, you want to do all of this formatting using Paragraph styles with the appropriate formatting. There should be no empty paragraphs. Do any spacing between paragraphs as part of the "space before" and "space after" paragraph formatting settings in the styles.
This formatting will keep the logical section together if it can all fit on one page and should start a page with the heading style.
The built-in Heading styles have default formatting to keep the heading paragraph on the same page as the following paragraph.
Beginning with Word 2013, you can also move text under an Outline-level paragraph within the document by collapsing the text under that, and then cutting and pasting. The collapsed text is moved along with the Outline-level paragraph. Outlining in Word
The same principles apply. Word does not understand pages! Please read the first part of this web page.
You can select the text on a page and delete it.
If your pages are organized using the built-in Heading styles, you can use the Navigation Pane's tab for headings and completely delete everything under a heading. You cannot click on a page in the Page tab, though, and delete it. That tab is strictly for navigation, not making changes. (PowerPoint slides are individual units and you can manipulate those in slide view.)
For deleting blank page problems, see Deleting "Blank" Pages by Suzanne Barnhill, MVP.
Return to
Questions List
The up-to-date version of this FAQ may be found at:
http://www.addbalance.com/word/

Changes / suggestions / ideas can be sent to Charles Kenyon.

views since 25 October 2023.